Description

Watch the Demo Video
---
ABOUT THIS TRAINING PRODUCT
---
What is it?
The WordPress Security PowerPoint SmartDeck (rev 2) is a convenient solution for those who want to learn more about securing WordPress. It explains to viewers in a simple format what the security risks are, steps you can take to secure WordPress, recommended update steps, access controls and core policies expected under the law if you process customer data.
It also provides a built-in quiz section to test user retention and comprehension of the topics discussed which is an essential part of any good training.
Who/What is it For?
This training powerpoint has a wide range of use cases such as;
Site owners who want to know more about securing their site
Administrators who maybe recovering from an incident and want to prevent a recurrence
As a training template for internal staff
C-Level staff who want to ensure all the bases are covered with security on their site
As a method to provide extra security controls for eCommerce sites
Evidence of a training program for auditors/ISO certification purposes
Further learning requirements
Ideas for further improvement of your site
Why You Need it?
75% of online passwords are estimated to have been compromised due to massive breaches and publication of user credentials on the dark web. This means that if your site is not adequately protected, it's only a matter of time before your site becomes victim to unauthorized access.
If your a developer/ web designer, you may want to use this presentation to cover all the bases when working on your clients site, particularly eCommerce ones.
In addition, auditors, regulatory bodies, certification bodies and customers expect and demand that customer data is adequately safeguarded and that policies are provided to demonstrate that commitment.
There are other operational reasons such as platform stability and backup availabilty which are equally important in instances where your site may need to be restored.
---
Training using our deck is a cost effective way of demystifying security requirements for WordPress
Features
Easy and concise coverage of the main regulations GDPR & Data Protection Act 2018 in a 20-25 minute interacive PowerPoint presentation
Covers case history of recent actions by the Data Protection Commission
Covers core policies required by GDPR regulation
Covers key risks which lead to fines and breaches
Includes a short multiple choice quiz to test user comprehension

Economic file size for easy email distribution

High spec slide layout with the latest .pptx file format
Easy to customise slidedeck and convert it to a presentation for example by removing quiz section.
Works on mobile (using "Microsoft Powerpoint:Slideshows and Presentations" app
Benefits
By providing an ongoing training program to all staff members you will help meet your training obligations under Articles 39, 47 & 70 of GDPR. It will also help
Improve processes and procedures inside the organisation
Improve consumer confidence and trustworthiness
Promote better data security and reduce risk of a data breach
Increase potential to enhance the reputation of the company as being at the forefront of data protection
Who Developed The Quiz?
The downloads were developed by privacy and security practitioners who have worked in the field of data privacy and cybersecurity training over a combined period of 25 years. Our simple training approach has been used by dozens of clients to great effect over several years.
Looking for further training supports?
We can create bespoke data privacy or cybersecurity training material for your needs, contact us at [email protected] for more information
Payments
When you pay, charges on your card statement will appear as "CARLTON WEB SOLUTIONS". Refunds are limited to technical issues which cannot be resolved using the user guide in the next section.
Usage Rights
This document contains original content developed by the author who is a data protection and security professional. By purchasing this product you agree to use this document for personal use or for the company on whose behalf you're purchasing it for.
Redistribution is not permitted outside of the above agreement and thus a separate document purchase would be required.
Our Customers

---
USER GUIDE
Please read the following sections to ensure the presentation runs on you system.
SECURITY:
The presentation has some built-in automation features that may not work properly unless the "Enable all macros" setting is checked in file > options > trust center > trust center settings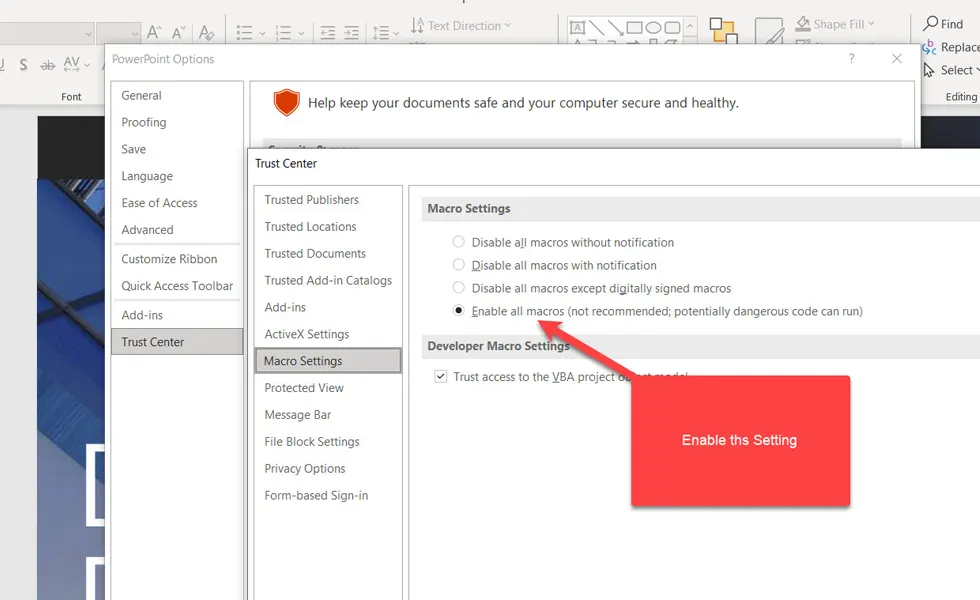 FONTS:
The presentation uses the following four fonts. These may need to be installed on your system for letters and icons to render properly
Montserrat, found at Fontsquirrel.com
Bebas Neue, found at fonts.google.com
Open Sans, also found at fonts.google.com
Font Awesome Pro for Desktop, found at Font Awesome Pro
IMAGES:
Most images are sourced from Shutterstock.com
TECHNICAL LIMITATIONS:
As with any software, legacy operating systems and mobile devices may cause issues when using this product. No compatibility issues have been noted on Windows 8,10 | Android v10-12 | Apple IOS => 2019. Important* Non microsoft powerpoint viewers will likely not work.
TROUBLESHOOTING:
If fonts are not rendering correctly, try installing the fontawesome webfont from here Fontawesome ttf download and restarting the powerpoint deck.
CUSTOMISATION:
If you need to customise the product for your organisation and you need help, click the button below and we'll get in touch.
---
---